Recovery of Materials and Energy from Urban Waste, Introduction
By Nickolas J. Themelis and A.C. (Thanos) Bourtsalas (Authors)
Provides an excellent example of industrial ecology where technology mimics the age-old ecological cycle./ Introduces the importance of combining recycling and waste to energy (WTE) in attaining sustainable waste management./ Describes in detail the dominant WTE technologies of moving grate and circulating fluid bed/ Covers the use of non-recycled plastics and paper, and other "wastes" as alternative fuels in cement plants./ Includes energy from both renewable and non-renewable waste sources.
---

Waste-to-Energy Technologies and Global Applications
By Efstratios N. Kalogirou (Author)
Through Waste-to-Energy (WtE) technology, plants use waste as a renewable fuel to co-produce electricity, heating, and cooling for urban utilization. This professional book presents the latest developments in WtE technologies and their global applications. The first part of the book covers thermal treatment technologies, including combustion, novel gasification, plasma gasification, and pyrolysis. It then examines 35 real-world WtE case studies from around the world, analyzing technical information behind planning, execution, goals, and national strategies. Results through the years show the benefits of the technology through the life cycle of the products. The book also examines financial and environmental aspects.
---
Transport and Chemical Rate Phenomena
By Nickolas J. Themelis (Author)
Transport and Chemical Rate Phenomena introduces the basics of transport and chemical rate phenomena to engineering and other applied science students who are interested in the chemical processing of inorganic materials. The text integrates theory, methodology, and extensive numerical applications for use in chemical engineering, materials science, and process metallurgy courses. "User-friendly" design with extensive use of illustrations also makes the book suitable as a quick reference source for practicing engineers.
---

Energy from waste: a good practice guide
Energy from waste (EfW) applies combustion engineering principles to reduce and sanitise waste – after recycling and composting processes have occurred – to recover energy. Covering both 'as received' waste (able to cope with raw, processed or sorted types of solid waste) and fluidised-bed combustion processes. This document also looks at the energy recovery options – including refuse-derived fuel (RDF), pyrolysis and gasification. Deals with operational requirements and strategies, UK policy, European context, legislation, planning, residue management, CHP/district heating issues.
---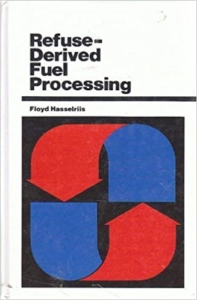 Refuse-Derived Fuel Processing
By Floyd Hasselriis (Author)
This book examines unit operations in refuse derived fuel processing technology. The author begins the book by characterizing municipal solid waste, including heating values, and the analysis of both MSW and RDF streams. The text continues on to a review of the process of handling the stream of refuse from curbside to processing plant. Once inside the plant, processing is viewed as a system of operations, each depending upon the material to be treated. The chapter devoted to size reduction examines various kinds of machinery used, the energy required for size reduction, and factors affecting shredder performance.
---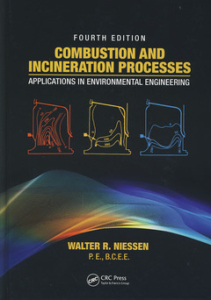 Combustion and Incineration Processes: Applications in Environmental Engineering
By Walter R. Niessen (Author)
In our "throwaway" society, with landfills filled to capacity, interest in incineration- and conversion-based waste management technologies continues to grow. Increasing net waste generation rates within U.S. metropolitan centers, skyrocketing transportation costs for waste hauling, and the enticement of increased electrical revenues from "green" power sources all amplify the need for better technologies.
Written by an internationally renowned expert with fifty years of experience, Combustion and Incineration Processes: Applications in Environmental Engineering, Fourth Edition has been updated to reflect the latest advances in the field, keeping pace with the evolution of complex and interdisciplinary technology that can better the environment. Detailing the changes that have occurred since the previous editions appeared, this volume's expanded scope includes additional details, data, and graphics regarding the design and operational characteristics of municipal and industrial waste incineration and conversion systems and numerous refinements in associated pollution control.
The book offers a thorough overview of:
Design, operation, and evaluation of incineration and conversion (gasification) systems for hazardous and non-hazardous gaseous, liquid, biosolid, and solid wastes

The waste management facility, from contaminant receipt, materials handling, and storage to stack discharge and dispersion

Breakthroughs in air pollution control

Waste and residue characteristics

Advances in materials handling, waste processing, refractory and materials engineering, combustion technology, and energy recovery to reduce and control toxins and pollutants in the environment
Achievement of true Zero Waste, or the eradication of landfills, will likely require thermal processing to economically extract the ultimate useful value from waste residue after minimization, reuse, and recycling. The latest technical advances continue to evolve and attract increased attention, and this book provides the requisite technical education and guidance to those responsible for selection and procurement of these new systems.
---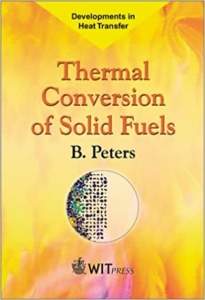 Thermal Conversion of Solid Fuels
By Bernhard Peters (Author)
The conversion of solid fuel particles by drying, pyrolysis, devolatilization and gasification in a packed or moving bed is a complex process involving various aspects of thermodynamics, fluid dynamics, chemistry and physics.
This book presents both analysis of and simulation methods for the entire process based around the mechanisms taking place on different time and length scales. The author's analysis distinguishes between relevant processes and mechanisms of minor importance, resulting in the newly developed Discrete Particle Method (DPM). Contrary to the Euler approach, this considers a particle with its conversion processes attached to it, as an individual entity of a packed bed. Three major areas of the thermal conversion of solid fuels are thus identified and dealt with individually by simulation methods.
An invaluable text for students examining solid fuel combustion, the detailed exploration of different aspects of packed bed combustion also makes this book an ideal reference for experienced engineers and postgraduates.
---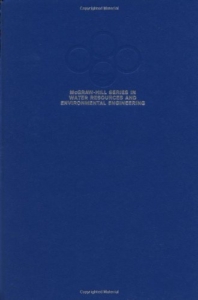 Integrated Solid Waste Management: Engineering Principles and Management Issues
By George Tchobanoglous (Author), Hilary Theisen (Author), Samuel Vigil (Author)
Designed for undergraduate courses in civil or environmental engineering departments which take an engineering approach to solid waste management, this is the solutions manual to a work which provides coverage of separation, transformation and recycling of waste materials, and offers a presentation of the integrated solid waste management system. Spreadsheets are used to develop results for waste generation, transportation, recycling, transformation and disposal.
Update of Dioxin Emission Factors for Forest Fires, Grassland and Moor Fires, Open Burning of Agricultural Residues, Open Burning of Domestic Waste, Landfills and Dump Fires
By Pat Costner
International POPs Elimination Network 15 November 2006
This briefing paper presents dioxin emission factors that have appeared in the scientific literature since the release in 2005 of the IPEN report, "Estimating Releases and Prioritizing Sources in the Context of the Stockholm Convention: Dioxin Emission Factors for Forest Fires, Grassland and Moor Fires, Open Burning of Agricultural Residues, Open Burning of Domestic Waste, Landfills and Dump Fires." 1
These new studies are briefly described below and, where appropriate, their emission factors are shown alongside those previously presented in the 2005 IPEN report, including emission factors proffered in the UNEP Dioxin Toolkit.
---
The Impact on Health of Emissions to Air from Municipal Waste Incinerators
By the Health Protection Agency in Britain, September 2009
The Health Protection Agency has reviewed research undertaken to examine the suggested links between emissions from municipal waste incinerators and effects on health. While it is not possible to rule out adverse health effects from modern, well regulated municipal waste incinerators with complete certainty, any potential damage to the health of those living close-by is likely to be very small, if detectable.
This view is based on detailed assessments of the effects of air pollutants on health and on the fact that modern and well managed municipal waste incinerators make only a very small contribution to local concentrations of air pollutants. The Committee on Carcinogenicity of Chemicals in Food, Consumer Products and the Environment has reviewed recent data and has concluded that there is no need to change its previous advice, namely that any potential risk of cancer due to residency near to municipal waste incinerators is exceedingly low and probably not measurable by the most modern techniques. Since any possible health effects are likely to be very small, if detectable, studies of public health around modern, well managed municipal waste incinerators are not recommended.
---
The City of Guelph Wet-Dry Recycling Center
By Alexander N. Themelis, Research Associate, Earth Engineering Center, Columbia University
Guelph, Ontario, (population:100,000), has acquired the reputation of being one of the most advanced communities in North America with regard to the management of MunicipalSolid Wastes. This report presents the results of a study of the Guelph integrated waste management system, consisting of visits to the processing facilities, meetings with the Wet-Dry Marketing Officer presently responsible for the operation of the Guelph Materials Recovery Facility(MRF), Mr. Trevor Barton and review of published information on the Guelph MSW collection and processing facilities.The Guelph system consists of citizens separating MSW to "dry" and "wet" materials(consisting mainly of food, sanitary/hygienic and plant wastes). The two collectionsare transferred to a common MRF facilitywhere the "dry" stream is subjected to manual and mechanicalsorting techniques to recover paper, plastic, metal and glass. The "wet"stream is subjected to debagging followed by screening and subjecting the undersize to composting in a Longwood in-vessel bioreactor, followed by storage in static piles and final curing in windrows. The compost product is high quality material sold to top soil blenders and landscapers. The estimated rate of diversion of MSW from landfill is 58% of received material. The report presents operating and cost factors. Citizen participation in this advanced system of waste management is estimated at 98%. The Guelph "Wet-Dry" system is one of the first in North America and has received global recognition.
---
Modern Waste-to-Energy – As an Energy and Environmental Management System
by Brian Bahor and Keith Weitz,
Recent international attention to renewable energy and climate change has focused on energy security with a key question being "how can a country achieve a greater degree of energy independence while also considering environmental consequences such as global climate change". Alternative renewable technologies such as solar, wind, biofuels, and nuclear power have received increased media attention in the USA. The management of municipal solid waste for energy generation/recovery has received comparatively less attention in America. However the European Union has recognized the link between responsible management ofMSW, renewable energy and the reduction ofgreenhouse gas emissions. The EU's recently proposed Thematic Strategy on the Prevention and Recycling of Waste and the EU Land Directive both recognize that disposal ofMSW in a landfill is a loss o f valuable resource (s) while also being the source o f greenhouse gas emissions. This paper uses the EP A's life-cycle based Decision Support Tool (MSW- DST) to evaluate the existing MSW management infrastructure in America and the potential of waste-to-energy to be a larger source of renewable energy while also reducing greenhouse gas emissions, PM 2.5 precursors and other emissions.
---
Global methane emissions from landfills: New methodology and annual estimates 1980–1996
by J. Bogner, Landfills +, Inc., Wheaton, Illinois, USA
and
E. Matthews, National Aeronautics and Space Administration-Goddard Institute for Space Studies, New York, New York, USA
Significant interannual variations in the growth rate of atmospheric CH4 justify the development of an improved methodology for landfill emissions, the largest anthropogenic source in many developed countries. A major problem is that reliable solid waste data often do not exist, especially for developing countries where emissions are increasing. Here we develop and apply a new proxy method to reconstruct historical estimates for annual CH4 emissions for the period 1980–1996. Using composited solid waste data from 1975–1995, we developed linear regressions for waste generation per capita based on energy consumption per capita, a surrogate which reflects population and affluence, the major determinants of solid waste generation rates. Using total population (developed countries) or urban population (developing countries), annual landfill CH4 emissions were estimated using a modified Intergovernmental Panel on Climate Change (IPCC) methodology. Methane recovery was modeled by fitting historic data to time-dependent linear relationships. Two scenarios for global emissions using the surrogate were compared to two scenarios using an IPCC standard methodology. Results from all four scenarios range from 16 to 57 Tg CH4 yr􏰀1, a similar range as previous estimates. We support the use of the lower energy surrogate scenario (A) with annual emissions of 16–20 Tg CH4 yr􏰀1, both positive and negative annual variations, and commercial recovery >15% by 1996. The surrogate provides a reasonable methodology for a large number of countries where data do not exist, a consistent methodology for both developed and developing countries, and a procedure which facilitates annual updates using readily available data.

Scientific Truth about Waste to Energy
By Marco Castaldi
Research review published by Prof. Marco Castaldi updates resources for the waste industry, policymakers, as well residents, and highlights the importance of waste-to-energy to reduce greenhouse gases and complement recycling.
---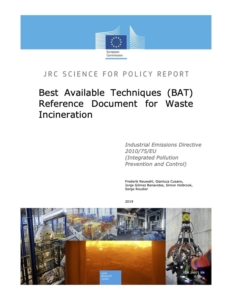 Best Available Techniques (BAT) Reference Document for Waste Incineration
European Commission: European Integrated Pollution and Prevention Control Bureau
Authors: Frederik Neuwahl, Gianluca Cusano, Jorge Gómez Benavides, Simon Holbrook, Serge Roudier
This BREF covers the incineration or co-incineration of waste, including municipal waste, other non-hazardous waste, sewage sludge, hazardous waste and clinical waste.
This BREF, besides traditional incineration processes, also describes pyrolysis and gasification processes.
In addition to the thermal treatment stage, this BREF also covers:
• the reception, handling and storage of waste;
• some waste pre-treatment techniques along with their influence on the ensuing incineration process;
• emissions to air and applied techniques for flue-gas cleaning;
• applied techniques for the treatment of incinerator bottom ashes and the recovery of useful materials from bottom ashes;
• emissions to water and the treatment of waste water originating from wet flue-gas cleaning or from bottom ash treatment;
• the recovery of energy from the incineration process.
---

The Guidebook for the Application of Waste to Energy Technologies in Latin America and the Caribbean
Research Project of the Earth Engineering Center, Columbia University
Economic development and growth of urban population in Latin America have resulted in the generation of an increasing amount of municipal solid waste (MSW) that is surpassing the existing capacity of sanitary landfills. This situation has led local and national governments to evaluate alternative options for diverting MSW from landfills. Waste-to-energy (WTE) become the preferred choice for managing post-recycling wastes in many E.U. countries, Japan, several cities in the U.S., and increasingly in China. However, the high investment cost of this technology, and also the need for better information and communication with the population regarding the environmental impacts of WTE, have impeded the development of WTE in Latin America. The objective of the Earth Engineering Center Guidebook, discussed in this paper was to introduce the reader to the current state of knowledge and application of various waste management methods and present three preliminary feasibility studies of advancing waste management in three Latin America cities: Valparaiso (Chile) Toluca (Mexico), and Buenos Aires (Argentina). Only the first two case studies are discussed in this paper. All three cases are described in detail in the EEC Guidebook, which is available to the public on the web. It is hoped that the data and information derived in this study will enable policymakers and MSW managers in Latin America to make better-informed decisions regarding the feasibility of including thermal treatment of MSW in their plans for advancing sustainable waste management.
---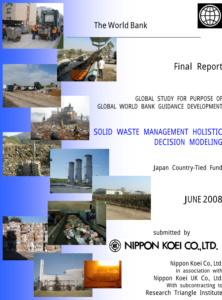 Solid Waste Management Holistic Decision Modeling
This study provides support to the Bank's ability to conduct client dialogue on solid waste management technology selection, and will contribute to client decision-making. The goal of the study was to fully explore the use of the United States Environmental Protection Agency and the Research Triangle Institute (EPA/RTI) holistic decision model to study alternative solid waste systems in a wide array of waste management conditions, using data collected from cities selected in each region of the world. Seven cities were selected from the different regions of development countries served by the World Bank. Their data was considered to be competent, and they cooperated with the study teams. They were: Buenos Aires, Argentina; Conakry, Guinea; Shanghai, China; Kathmandu, Nepal; Lahore, Pakistan; Amman, Jordan; and Sarajevo, Bosnia and Herzegovina. These cities represented a range of economic development factors, income, commercial, and industrial activity, in addition to their different physical settings and climate conditions. The cities were selected to see how such divergent variables would affect the outcome of the modeling analysis. Each of the selected cities is one of the largest within its country. In addition to the 7 target cities from developing countries, Kawasaki, Japan, and Atlanta, Georgia, were selected for comparative purposes. The resulting scenarios for each city, and cities in comparison to others, are shown in detail. While this report found the level of analysis adequate to indicate how technologies and scenarios compare, more detail would be required for deciding on the most cost-effective technology. The results of this study can be considered a useful guide for many cities, in understanding the waste disposal options most appropriate to their conditions.
---

ENVIRONMENTAL AND ECONOMIC ANALYSIS OF EMERGING PLASTICS CONVERSION TECHNOLOGIES
This study, commissioned by the American Chemistry Council's Plastics Division and conducted by RTI International, investigated the range of emerging waste conversion technologies that use plastics as all or a portion of their feedstocks. The focus of the study was to report on the environmental aspects of the technologies, using a life cycle approach, and to report what is known about the economics of these technologies.
---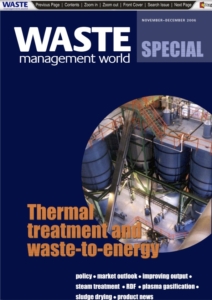 Waste Management World – Thermal treatment and Waste to Energy (Special 2006)

The European Commission is seeking to examine the energy efficiency of waste-to-energy plants in order to classify them as either recovery or disposal. Under the new criteria, many of Europe's existing plants would be deemed "disposal'. Yet how realistic is this criteria, and what would it mean for the waste-to-energy industry?
---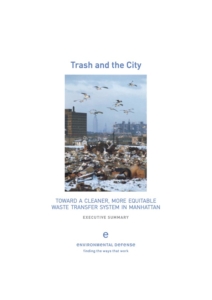 Trash and the City
TOWARD A CLEANER, MORE EQUITABLE WASTE TRANSFER SYSTEM IN MANHATTAN
Environmental Defense
Authors: Ramon J. Cruz | Thomas Outerbridge | James T.B. Tripp
New York City depends on trucks to take out the trash. In fact, diesel trucks carry Manhattan's garbage 7.8 million miles every year. That's the equivalent of driving more than 312 times around the earth. In addition to garbage, each of those trucks carries huge health and economic costs: They worsen traffic congestion, add to noise and increase air pollution, exacerbating the city's already severe asthma prob- lem. Many of these impacts hit hardest in economically disadvantaged com- munities, but every New Yorker suffers from the overall impact on our city's quality of life.
Waste-to-Energy 25 Years Later: Technology with a Past, Present and Future
Federation of New York Solid Waste Associations

Solid Waste/Recycling Conference, May 2005
John F. Williams, SVP
National Director of Governmental Planning and Consulting
---
Waste and the Environment 2007 – Modern Techniques Fire a Burning Argument
by Fiona Harvey, Financial Times, April 2007
---
Don't Waste Waste! Waste-Based Energy Can Help Meet Our Energy Needs
Integrated Waste Services Association, National Solid Wastes Management Association, Solid Waste Association of North America ASME (American Society of Mechanical Engineers), The United States Conference of Mayors. October 2006
A broad coalition of government and business groups have joined together to call for increased incentives to promote the development and utilization of energy produced from waste, or waste-based energy (WBE). The United States Conference of Mayors, the Integrated Waste Services Association, the National Solid Wastes Management Association, the Solid Waste Association of North America, and the ASME Solid Waste Processing Division believe that the high cost of energy in the United States requires an increased commitment to recovering energy from the waste stream. This coalition calls upon Congress, federal agencies, and states to provide additional incentives to stimulate new waste- based energy capacity, as well as support existing capacity.
---
Renewable Fuels, a Critical Part of a Sustainable Energy Policy
by John F. Williams – Adjunct Assistant Professor
Columbia School of International and Public Affairs
Senior Vice President, National Director Governmental Consulting and Planning
HDR Engineering, Inc.
---
Waste Incineration — A Potential Danger? Bidding Farewell to Dioxin Spouting
Report of German EPA on Emissions of Waste-to-Energy Plants (September 2005)
---
The European position
Where is waste-to-energy, and where is it going?
By Ella Stengler
Waste Management World November/December 2005
---
North Carolina may soon be a trash magnet
by Bruce Henderson